The Shortbus Superheros are a rock band from Texas. There isn't any better way to explain it. If there is a style of rock they have heard, they try to include it in the music they play. Their most obvious sonic influences are alternative rock, emo, and metal, but bits and pieces of everything from classic rock to classical music, punk to funk, jazz and blues to progressive rock, and even hair metal can be found at this bus stop.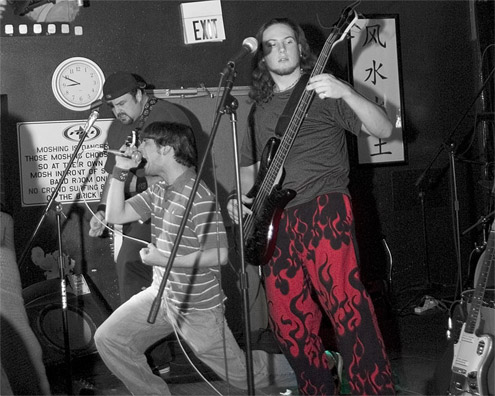 The band was formed in the spring of 2002 on the campus of Sam Houston State University in Huntsville, TX (the town unfortunately also known as the capital punishment capital of the world…) when vocalist Glen Tate (age 27, from Pasadena, TX) enlisted the aid of three of his music fraternity brothers (Hail Sinfonia!): saxophone major Kevin Chubirka (age 22, from Humble, TX) for drums, then-trumpet major Daniel Wilson (age 22, from Cypress, TX) for lead guitar, and trumpet major Daniel Pfannstiel (age 22, from College Station, TX) for bass guitar. This band of classically/university trained, multi-instrumentalist musicians became strongly focused on the goal of making a living by playing a popular form of music that is self-composed, could adequately showcase their individual and collective musical talents, and effectively express ideas to a broad audience. After their first few shows, they were joined on this journey by guitar-slinging brother Greg Cox (age 26, from Conroe, TX), thus rounding out their "three guitar army" that can only be understood in the light of the "everything's bigger in Texas" mentality.
This band of social misfits called themselves the Shortbus Superheros because the phrase is a metaphor that describes the underdog or "weird kid" that attains great life success and changes the world. Since this describes what most of mankind either is or strives to be, it is reasonable to assert that the band has its hand on the pulse of the needs of a large and important audience.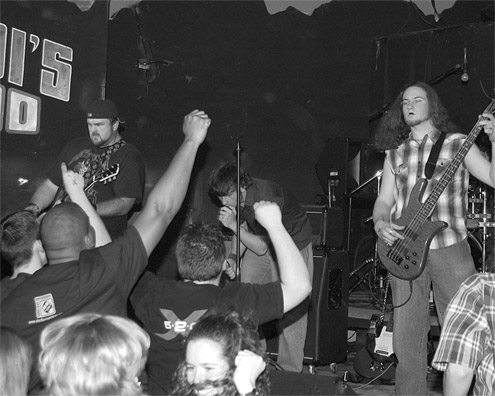 In the three years since their inception, the group has extensively toured the Southwest region of the United States, building a modest but ferociously loyal fan base who feels that the band really speaks to the way they feel about life. That connection to the everyday lives and deepest inner thoughts and desires of today's forgotten youth was captured on the band's first CD, Slow Children, which was recorded during the summer and fall of 2003 and released in January of 2004.
While on the surface all of their music is catchy and musically accessible to a mainstream listener, generally when a person takes the time to listen to a Shortbus Superheros song more closely, they are drawn in by superior musicianship, meaningful lyrics that are easy to relate to, and a vocal quality that is largely unheard in today's rock. The band takes pride in constantly expanding their musical ability; this is a band that loves to rehearse and ever strives to further develop an increasingly unique and unified sound from all of their diverse influences.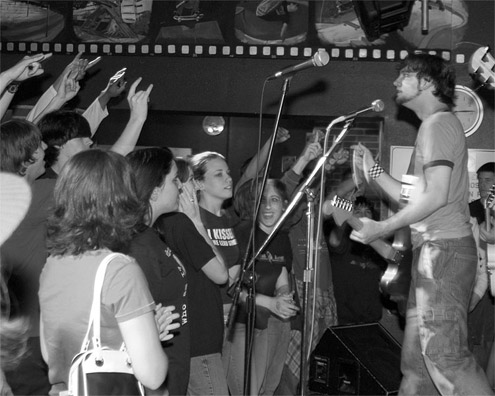 The greatest asset to the band is its love of being onstage and playing live. Their live show is often referred to by words like intense or insane. They do anything they can to entertain, excite, and involve an audience into their show, and the goal is to leave concert-goers amazed and awe-inspired. It is simply not enough to hear listeners call them a good band; they want to freak people out and change their lives.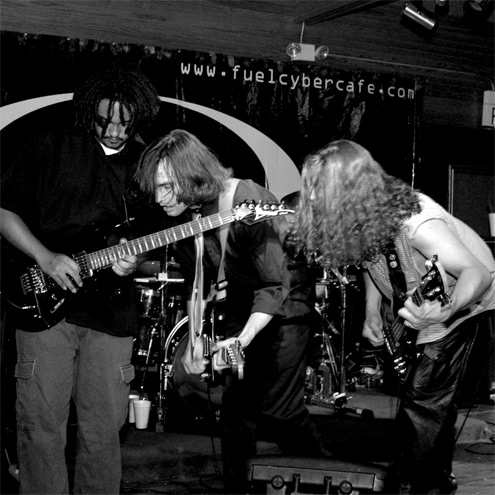 Today, the Shortbus Superheros are just as determined as ever to make a living doing the job they love and to reach as many people as possible with their positive yet realistic message. They are currently at work on the follow-up to their first release, which promises to showcase the band's genre-crossing brand of rock like nothing the world has ever experienced.